I love the crisp, clean flavors of Asian food; it has such crunch, color, and so many different textures. It can also be deceivingly simple to make. This is one of my go-to recipes when we're having friends for dinner. I like to serve it with a vegetarian spring roll to begin, and follow it with an Asian-inspired dessert, like lychee ice cream with homemade fortune cookies. (The fortune cookie recipe is coming soon – have no fear! We've had some rollicking dinner parties, thanks to personalized fortune cookie messages written for each guest.)
Sea bass can be both rare and expensive these days, but you can easily substitute rockfish or halibut for the sea bass. It needs to be a firm fish. I serve this meal with brown rice, and in the photo I've molded the rice into an oval and placed the sea bass on top. This is easy to do: pack the rice into a 3/4 cup measuring cup (or larger), tap it out on to the plate and top with sea bass and veggies.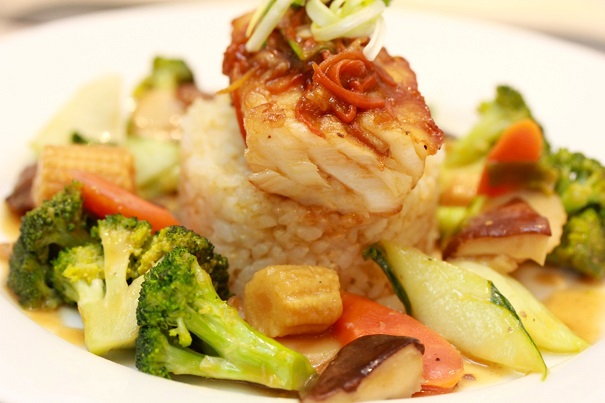 Serves: 4
Prep time: 30 minutes for the seabass, 30 minutes for the vegetables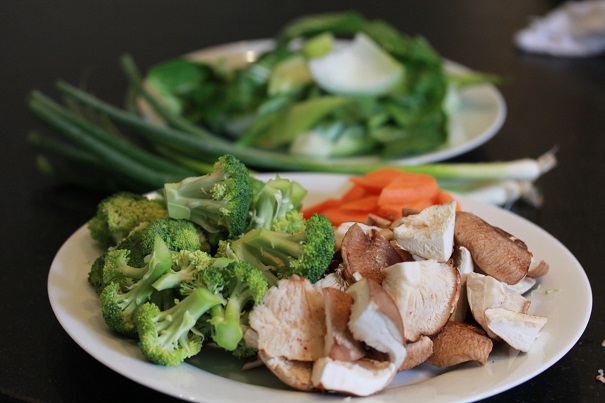 Ingredients
4 pieces of Chilean sea bass, 6 ounces each, skinned and deboned
1 teaspoon salt
½ teaspoon pepper
2 tablespoons rice flour or cornstarch
¼ cup peanut oil or canola oil for frying fish plus one tablespoon of oil for cooking the vegetables
1 tablespoon of thinly sliced ginger
3 shitake mushroom caps, thinly sliced
½ cup carrots, julienned
2 tablespoons hoisin sauce
½ cup Chinese cooking wine, which can be substituted with brandy
1 tablespoon soy sauce
2 spring onions, thinly sliced
2 cups of steamed brown rice
Directions
Season fish with salt and pepper and dredge in rice flour. Heat oil in large frying pan, add fish, and fry until golden brown.

Add 1 tablespoon oil in same pan and sauté ginger, mushrooms and carrots.
Add hoisin sauce and wine or brandy, and soy sauce. Add fish, cover and let it simmer on very low heat for 10 minutes. Add uncooked spring onions and serve with brown rice.<./li>
VEGETABLE STIR FRY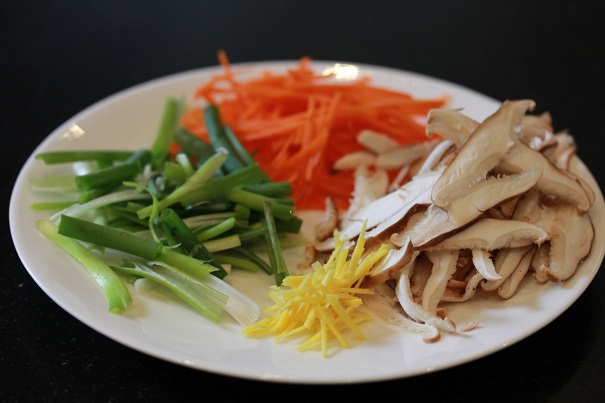 Ingredients
2 tablespoons peanut oil
½ of a medium onion, sliced
1 small can of sliced water chestnuts
1 cup of fresh or canned baby corn
1 head broccoli
1 cup of shitake mushrooms, cut into quarters
1 carrot cut into rounds
½ cup of snowpeas
½ cup chicken stock
1 tablespoon soy sauce
½ teaspoon sugar
1 head of bok choy
1 tablespoon corn starch
Directions
Heat peanut oil in a wok or a deep frying pan to medium-low heat. Saute onion until wilted. Add water chestnuts, baby corn, broccoli, mushrooms, carrots, and snow peas but not the bok choy.
Add chicken stock, soy sauce, sugar and cook for five minutes.
Add bok choy.
Mix a tablespoon of cornstarch into 2 tablespoons water and pour into vegetables to thicken the sauce, stirring well.
Serve hot with steamed brown rice, though it is also excellent after being refrigerated.