There are times when the preparation of food should be slow and savored.  And then there are times when fast and easy favorites are all anybody wants – especially the cook! This tailgate picnic can be assembled in the time it takes to pop some popcorn, heat up soup, grill a sausage, and throw a batch of cookies in the oven.  It just takes a little advance work (as we used to call it in the White House), and a grill.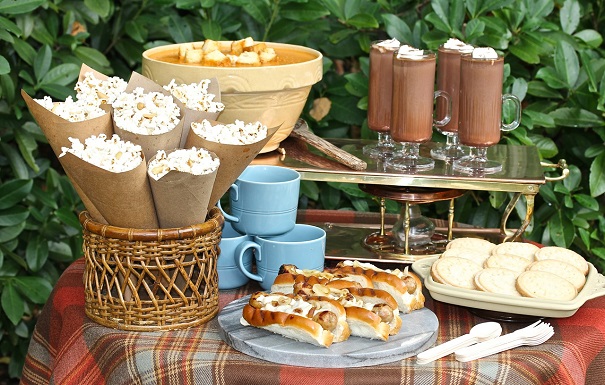 I'm not a purist about cooking. If you can buy a good prepared tomato soup, like the one they make at Whole Foods, I wouldn't spend an extra hour making the soup from scratch. However, I've included a recipe for tomato soup, if you want to go the distance. Also, it seems unfair to see very clever accessories being used in food photographs, without any information about where one might get said cute accessories. The "Homemade" stamp on the cookies came from Fancy Flours: http://www.fancyflours.com. There! Now you know all my secrets!
 Here's the menu:
Popcorn and peanut cones
Hot buttered tomato soup with challah bread croutons
Grilled chicken and sage sausage sandwiches with onions and provolone cheese
Homemade Sugar Cookies
HOT HOT HOT chocolate
Popcorn and Peanut Cones
Serves: 6
Prep time: 20 minutes

Ingredients
1 cup unpopped popcorn
2-3 tablespoons vegetable oil
Salt and pepper to taste
Salted peanuts, without skins
Brown paper bags for popcorn, or paper cone twists
Directions
In a large pot with a lid, pour the oil and the popcorn into the pot.
Cover pot, set on medium-high heat and wait for popcorn to begin popping vigorously.
Using potholder, lift pot a few inches above the heat and shake back and forth until popping begins to subside.
You should be able to hear the popcorn piling up and even beginning to raise the lid off the pot.
Remove from heat, and spread on two large baking sheets.
Salt to taste and sprinkle in peanuts.
Scoop popcorn and peanuts into individual bags or paper twists.
Popcorn can be kept warm by leaving them in a foil-lined pizza delivery bag, which can be purchased online for about $20.
To make the paper twists, I used brown paper grocery bags, cutting them into 9×12-inch pieces, twisting each piece of brown paper into a cone and taping it at the side. So simple!

HOT BUTTERED TOMATO SOUP WITH CHALLAH BREAD CROUTONS
Serves: 6
Prep Time: one hour

Ingredients
2 tablespoons olive oil
2 garlic cloves, minced
1 medium onion, diced
3 tablespoons tomato paste
1 cup chicken stock
1 28-ounce can of diced tomatoes
salt and pepper to taste
1 tablespoon sugar
1 cup cream
3 slices challah bread, chopped into squares
small pat of butter for each cup of soup for garnish
2 carrots, peeled and chopped-?
Directions
Heat olive oil in a large soup pot.
Saute garlic and onions until wilted and slightly brown.
Add tomato paste and stir until it caramelizes.
Add chicken stock, carrots, canned tomatoes, salt, pepper and sugar.
Let it simmer for 20 minutes on low heat.
Turn off heat and puree soup.
Add cream and check seasoning.
Serve.
Chop challah bread into one-inch squares and toast in 350 degree oven for 4 or 5 minutes.
Pour soup into cups, dot with butter and sprinkle with croutons before serving.

GRILLED CHICKEN SAGE SAUSAGE WITH ONIONS AND PROVOLONE
Serves: 6
Prep Time: 25 minutes
Ingredients
2 large white onions, thinly sliced
1 tablespoon olive oil
6 chicken sage sausages
6 split-top hot dog buns
½ pound provolone cheese, thinly sliced
Directions
Chop onions into thin slices and brush lightly with olive oil.
Cook onions on grill until soft – about 4-5 minutes – and set aside.
Cook sausages on medium-high grill until they are just pink inside, also about 5 minutes.
Place split top buns at edges of grill to toast until they are very crisp, both inside and outside, while the sausages are cooking.
Put sausage into bun, spread onions on top of the sausage and cover with ½ slice of cheese.
Put sandwiches at cooler part of grill and using a deep pot lid, cover sandwiches for a minute or two to allow cheese to melt.
Serve immediately.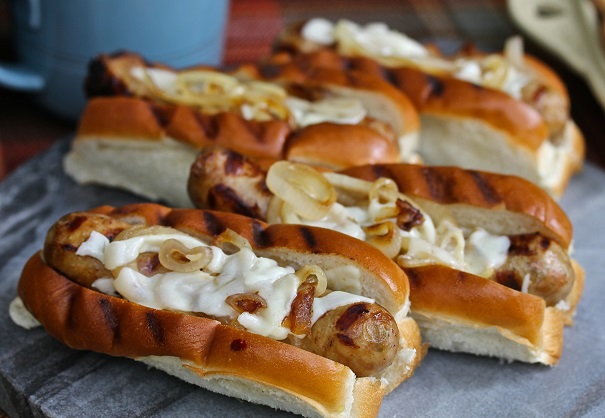 HOMEMADE SUGAR COOKIES
I used the recipe that came with the cookie stamp, but a molasses or ginger cookie recipe would work as well.

Ingredients
10 ounces flour
½ teaspoon baking powder
5 ounces sugar
½ teaspoon salt
9 ounces butter
1 egg yolk
2 teaspoons vanilla extract
Sugar for sprinkling on top of cookies
Directions
Preheat oven to 375 degrees
In a large mixing bowl, mix together flour, baking powder, sugar and salt.
Mix in butter and blend in until mixture is crumbly.
Sir in egg yolk and vanilla.
Chill dough for one hour.
Sprinkle work surface and stamp with flour.
Separate dough into golf ball-sized chunks.
Flatten the balls and stamp.
Sprinkle with sugar.
Place on a silpat-covered baking sheet and bake for 6-8 minutes.

Cookies should be golden brown. Allow cookies to cool before transferring them to wire racks.

HOT HOT HOT Chocolate
This is the greatest recipe! On a cold day, this will warm you up fast (and possibly clear out your nasal passages at the same time). Though this hot chocolate is non-alcoholic, it almost tastes like an adult drink, the flavors are so complex, but kids will love the bang of the cayenne mixed with the sweetness of the chocolate.
Serves: 6
Prep time: ten minutes

Ingredients
6 cups whole milk
1/2 cup Droste brand cocoa, or any good quality cocoa
1 teaspoon cinnamon
1/3 teaspoon cayenne
½ cup sugar
½ cup milk chocolate chips
whipped cream for garnish
shaved chocolate for garnish
Directions
Heat milk in a medium-sized saucepan at medium heat.
Do not allow milk to scald or boil.
Mix in cocoa powder, spices, sugar and chocolate chips.
Using a whisk, whisk the mixture until frothy.
Serve hot, topped with whipped cream and sprinkle with shaved chocolate.