I learned a lot about hospitality from Laura Bush.  She understood and exemplified the desire to give every White House guest a memory of a lifetime, and beyond, because each guest's visit becomes a part of their personal family history.  She thought carefully about every event she hosted: how it could be exceptional, how the food and flowers could in some way reflect the occasion, how the calligraphy honored the attendees – it was a package of small but important details that led to a great party. With the exception of the Christmas party buffets (which had at least one dress rehearsal to make sure every dish was delicious, beautifully presented, and complemented the meal as a whole), we never served the same meal twice.  Every tablecloth, centerpiece, menu card, and meal was unique to that specific event.
Laura Bush knew how to please and impress her guests. She and the President once hosted a lecture for a large group of scholars and historians of Abraham Lincoln, to celebrate Lincoln's birthday. As the event was about to begin, she called me aside and asked me to arrange for guests to be invited to visit the Lincoln Bedroom, which is upstairs in the private family quarters. The Secret Service quickly made the adjustment to escort guests upstairs, because it was not common for a big group to suddenly troop up to the family quarters. For those scholars who'd been studying Lincoln and the Civil War all of their adult lives, it was a singular moment. There were even a few tears at the sight of the Gettysburg Address on display in the Lincoln Bedroom, the only one of five copies signed, dated and titled by Lincoln. They wandered through into the Lincoln Sitting Room, and reluctantly, back down to the party. She gave those people the memory of a lifetime.
Laura Bush was very popular among the White House staff because she always remembered to thank people for the job they were doing. It made them even more loyal and willing to pitch in when things became hectic. She would invite her East Wing staff up to the family dining room on a regular basis for lunch, complete with menucards, lovely centerpieces and careful seating arrangements.  It made me realize how thoughtfulness can be a very potent leadership skill. And another thing about Laura Bush – she never misspoke. Can you think of one other public figure about whom that can be said? Plain-spoken, forthright, and always willing to give another person the benefit of the doubt – also important elements of leadership.  The best bosses are also teachers, who make us better at what we do and how we live.
Today is her birthday, and I want to thank Laura Bush for her service to the nation, and also for the education I received in her employ. And in her honor I'm happy to share her recipe for buttermilk coconut pie. Happy birthday!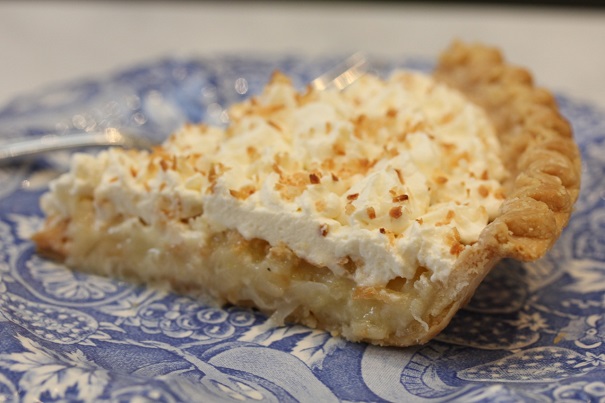 Serves: 6
Prep time: 50 minutes

Ingredients
1 unbaked nine-inch pie shell
½ stick melted butter
1 cup sugar
2 eggs
1 teaspoon vanilla extract
½ cup sweetened, shredded coconut, plus ½ cup of toasted coconut for garnish
1/3 cup buttermilk
2 cups whipped cream
Directions
Mix butter, sugar, eggs, vanilla, coconut and buttermilk, and pour into pie shell.


Bake at 350 degrees for 35-40 minutes.
In a dry frying pan set at low heat, toast the coconut until it is golden brown.
Garnish pie with whipped cream, and sprinkle with toasted coconut.