We have some dear British friends spending the Thanksgiving holiday with us, so there has to be tea – at least once. We're not home for the holidays this year, so my plan is to keep things simple – recipes with just a few ingredients, using the most basic cookware. I don't want to miss out on the fun, so the recipes need to be fast and easy.
This shortbread meets all the requirements. It's a sweet and savory treat that goes nicely with lemony tea and a plain scone topped with clotted cream and a bit of jam.  Wherever you are this Thanksgiving, I hope you'll enjoy the company of friends and family, and a good homemade cookie!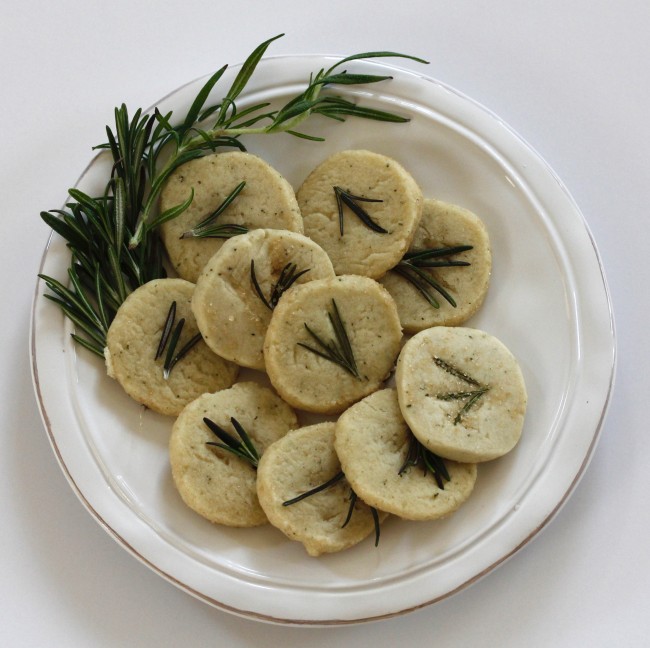 Rosemary Shortbread
Serves: Makes 2 dozen small cookies
Prep time: 50 minutes, including 20 minutes chilling time for dough

Ingredients
10 tablespoons butter, cold and cut into small pieces
1 ½ cups flour
¼ cup powdered sugar
2 tablespoons minced fresh rosemary, plus 2 dozen small rosemary leaves to garnish top of cookie
3 tablespoons Demerara sugar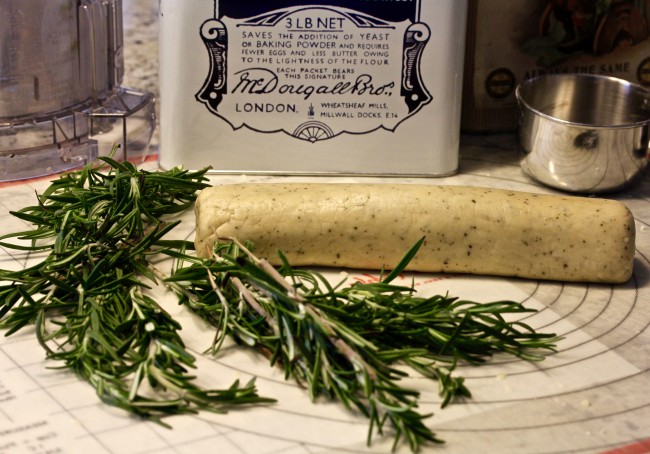 Directions
Preheat oven to 325 degrees.
In a food processor, mix butter, flour, powdered sugar and minced rosemary until ingredients form a ball.
Roll dough into a log, wrap with cling wrap and refrigerate for 20 minutes.
After dough has chilled, remove from wrapping and roll outside of dough in Demerara sugar.
Slice dough into ½-inch pieces and place on baking sheet that is covered with a Silpat or parchment paper. Top each cookie with a few rosemary leaves.
Bake for 15 minutes at 325 degrees.  Allow to cool and serve.