Some of my best White House food memories are about soup. It made the perfect first course at so many meals, especially in the fall and winter, served in delicate two-handled soup bowls of White House china. It wasn't meant to fill guests up; it was just enough of a delicious mélange of flavors to whet the appetite and let guests know that they were in for a genuine gastronomic experience. When the Bush's hosted dinners in their family dining room in their family quarters, I would sit in the tiny kitchen adjoining the dining room and have the same dinner at a minuscule table that looked out on Lafayette Park. It was frequently the first thing I'd eaten since breakfast, and became a welcome moment to sit down and take a deep breath after a full day. I associate those times with delicious soups like this one, which I found in Gourmet Comfort Foods. It is definitely White House (and your house) worthy.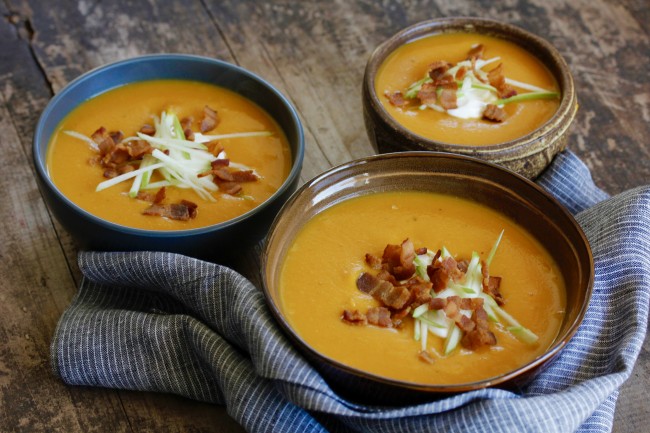 BUTTERNUT SQUASH AND APPLE SOUP
Adapted from Gourmet Comfort Food
Serves: 8 as appetizer, 4-6 as entrée
Prep time: 1 hour

Ingredients
6 slices bacon, cut into ½ inch pieces
2 celery stalks, chopped
1 carrot, chopped
1 medium-sized onion, chopped
¼ teaspoon cinnamon
¾ pound boiling potatoes
1 Granny Smith apples
1 1/2 pound butternut squash, peeled, seeded and cut into ½-inch pieces
2 cups chicken stock
1/8 teaspoon nutmeg
2 cups water
1 teaspoon salt
½ teaspoon pepper
sour cream for garnish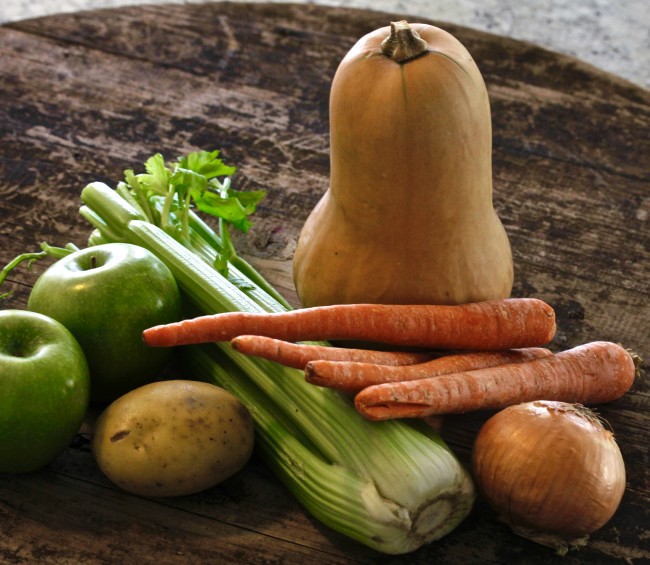 Directions
Cook bacon in heavy pot until crisp and drain. Reserve 2 tablespoons fat in pot.
Add carrot, celery and onion to bacon fat and cook on low until soft but not browned – about ten minutes. Add cinnamon and nutmeg and cook for another minute.
Peel potatoes and chop into small pieces. Peel and core one apple and chop coarsely.
Peel squash and roast in a 400 degree oven for fifteen minutes.
Mix roasted squash, potatoes, chopped apple, chicken stock, water, 1 teaspoon salt and ½ teaspoon pepper and simmer uncovered until vegetables are tender (15-20 minutes).
If mixture becomes too thick, add ½ cup water.
Cut remaining apple into matchsticks.
Serve soup topped with sour cream, bacon and apple garnish.
Can be made 2 days ahead and chilled.