First of all, happy almost-birthday to former first lady Laura Bush. Here's a recipe she gave me last year that I just love. One of my favorite things about working for Laura Bush was her genuine appreciation for good food, whether it was a perfectly-crusted filet mignon or a crispy, healthy pizza. Her whole wheat pizza is no exception: crunchy crust, classic vegetable toppings, and plenty of gooey cheese.  Whether you want the ultimate veggie pizza for a cozy night in, a classic pizza margarita to complete an Italian supper, or – my personal favorite – a garlicky white pizza, Mrs. Bushes recipe is a must-make.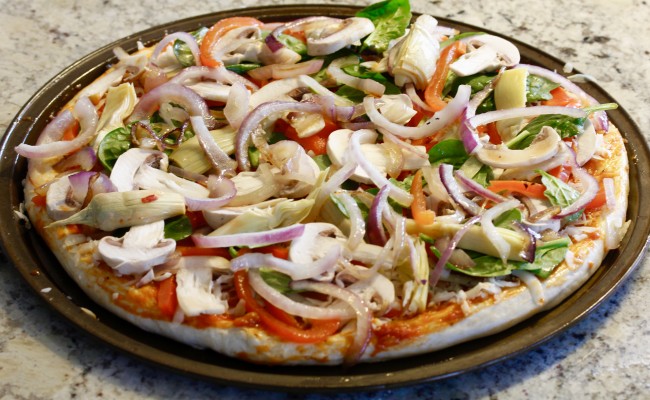 Serves: 2-3
Prep time: 1 hour plus 2 hours for dough to rest
For the pizza dough: 

Ingredients
1 package dry yeast
1 ¼ cup warm water
1 ½ cup whole wheat flour
2 cups white flour
1 tablespoon olive oil
1 tablespoon honey
Pinch of salt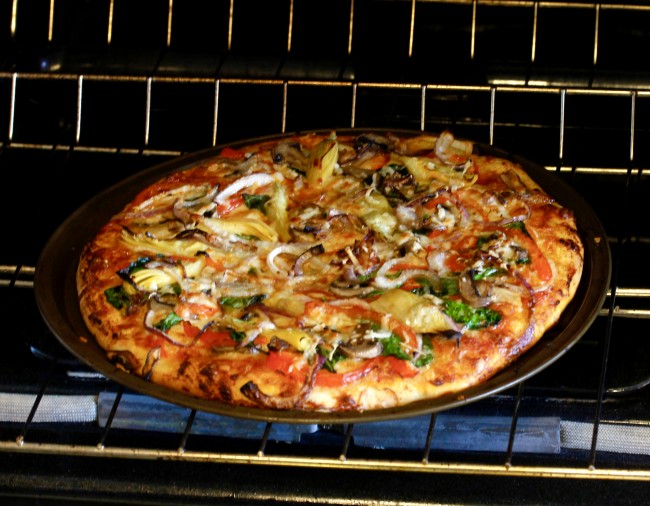 Directions
Proof the yeast in the warm water according to the directions on the package.
In a mixing bowl, combine flours; add proofed yeast, salt, olive oil, and honey.
Mix dough to form a ball place on floured surface and knead for ten minutes to form a soft dough.
Place in a lighted oiled bowl and cover with a towel to allow to double in size (about 45 minutes.)
Punch dough down and place on lightly floured surface. Knead for one minute.
Divide dough into four portions, shaping each into a ball. Place in a lightly oiled pan; cover with plastic wrap and allow to rest in refrigerator (about 2 hours).
Bring dough to room temperature. On floured surface stretch dough ball into a round shape of about 7 inches.
Brush pizza pan with olive oil and place pizza onto oiled surface.
Top with desired toppings and bake at 450 degrees for 12-14 minutes.
White Pizza:
Ingredients
¼ cup ricotta cheese
¼ cup goat cheese
¼ shaved parmesan
¼ cup mozzarella
1 artichoke (quartered and drained)
½ cup spinach (fresh)
2 cloves minced garlic
Directions
Top dough with four cheeses; top with artichoke and spinach.
Margherita Pizza:
Ingredients
1 tablespoon pizza sauce/tomato sauce
8 oz mozzarella slices
¼ cup torn basil leaves
Directions
Spread tomato sauce lightly and evenly across dough.
Top with mozzarella slices, evenly distributed, and finish with torn basil leaves.
Vegetable Pizza:
Ingredients
1 tablespoon pizza/tomato sauce
1 cup grated mozzarella (or more, depending on how cheesy you like your pizza!)
1 red pepper, sliced and roasted
½ red onion, sliced and roasted
1 artichoke, quartered and drained
1/4 fresh spinach
¼ cup sliced mushrooms
Directions
While all three pizzas should be done within 12-14 minutes, bake until the cheese is melted and the dough is properly crisped.