This is not so much a recipe as it is a set of assembly instructions. One of my friends has been on a serious and successful diet. When we got together for lunch, I wanted to make her favorite dessert – a banana split – but I didn't want to sabotage her weight loss achievement. My daughter told me about an ice cream treat called Halotop that has only 240 calories in a pint (or what I like to think of as a single serving of ice cream). I bought the vanilla, chocolate, and strawberry flavors, and some of the little bananas that are turning up in grocery stores more often now. That was a discovery – the mini-bananas are very banana-y and sweet (and would make amazing banana bread, for future reference).
Using a small ice cream dish, I put together mini-scoops of all three flavors with the use of a melon baller, added a tiny banana and a few raspberries, and drizzled one teaspoon of chocolate sauce over it, with a little dollop of Cool Whip. It worked out to about 120 calories, but felt as indulgent and satisfying as any full-blown banana split. (By the way, I'm not paid to endorse Halotop or any other product.) My friend loved the dessert surprise, and I thought this easy-to-do treat was worth passing along. Enjoy~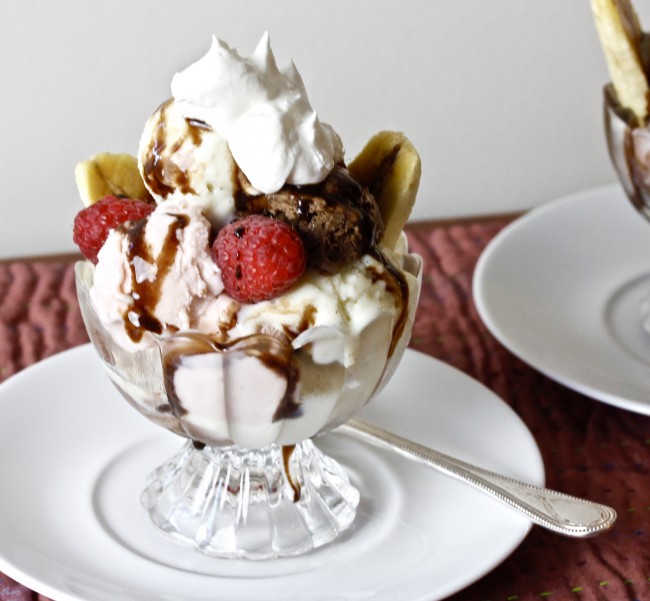 Updated Banana Split
Serves: 2
Prep time: 5 minutes

Ingredients
1 pint each of vanilla, chocolate and strawberry Halotop
2 teaspoons chocolate syrup
2 teaspoons Cool Whip
2 mini-bananas, or ½ of a standard banana
A handful of raspberries or strawberries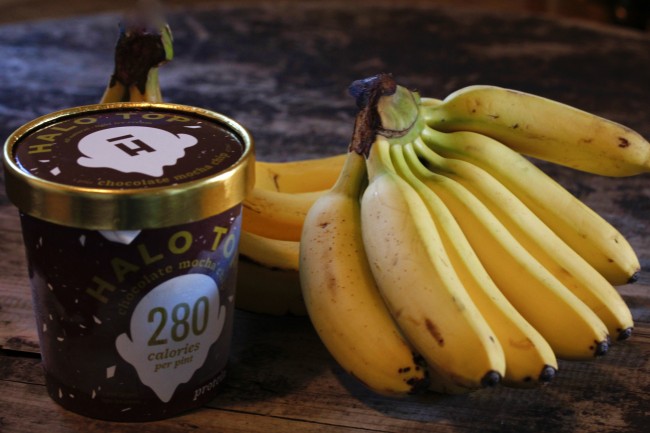 Directions
Scoop assorted flavors of

Halotop

into a small dish.

Add fresh fruit and top with chocolate sauce and Cool Whip.
Serve immediately.