When I was growing up, my grandmother was friendly with another farming family who had orchards full of apples, pears, and stone fruits. It was a rite of fall for my mother and I to go to Schenks' to buy apples, cider, and Italian plums for plum dumplings. We would walk past their farm stand to the apple cooler; its giant, maple-fronted steel door opened slowly, like a bank vault. Inside, the metallic fragrance of cold apples enveloped us, as we chose from the best of their produce – a professional courtesy among the local farmers. The cider was strong and sweet, and my grandmother always fried a batch of doughnuts made with apple cider and sprinkled them with powdered sugar.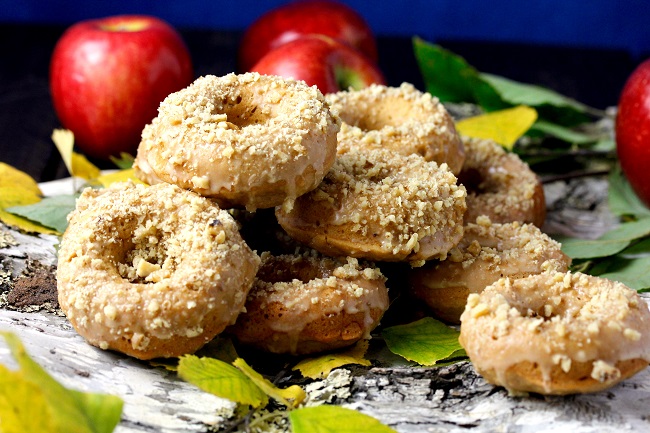 As much as I love fried doughnuts, I've adapted her old recipe to be baked (after more failed attempts than I care to recall). It's healthier, less messy, faster – and I added crushed walnuts on top of the cider glaze, because the apple flavor in a cider doughnut is subtle. The ingredient that made the dough work was honey (with thanks to thefauxmartha.com for the idea). This is an apple-ish, cinnamon-y, honeyed doughnut with a walnut crunch. Yum!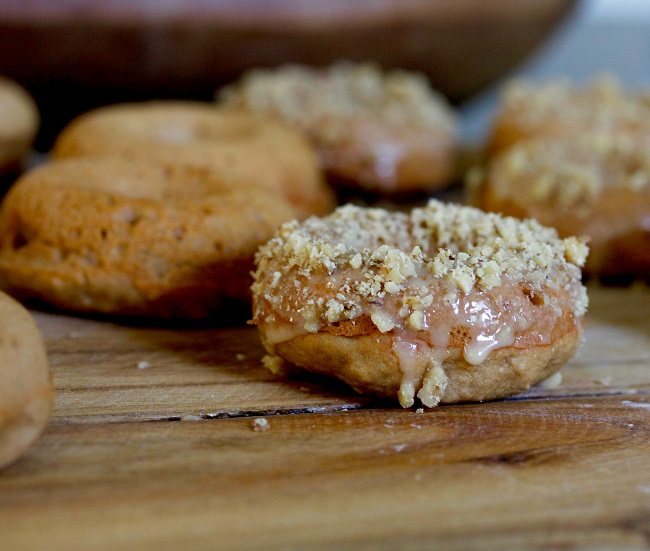 Baked Walnut Apple Cider Doughnuts
Serves: Makes a dozen baked doughnuts
Prep time: 25 minutes

Ingredients
2 cups flour
¾ cup apple cider plus 2 tablespoons for the glaze
1 teaspoon cinnamon
4 tablespoons honey
½ teaspoon salt
1 ½ teaspoons baking powder
1/8 teaspoon nutmeg
½ cup sugar
2 eggs
¾ cup walnuts, finely chopped
3 tablespoons powdered sugar
Directions
Preheat oven to 400 degrees.

Whisk together flour, sugar, cinnamon, nutmeg, baking powder, and salt, and set aside.
Mix eggs and honey until well combined and add to dry ingredients.
Add cider, stirring in until dough is the consistency of muffin dough.
Do not overmix, or dough will become tough.
Spoon dough into an oiled doughnut pan and bake for 6-8 minutes.
Allow doughnuts to cool.
They should be springy and cakelike.

Mix 2 tablespoons of cider and the powdered sugar to make the glaze, using a butter knife to lightly frost the top of the doughnuts.
Sprinkle with chopped walnuts and serve.