When you're in the mood for a cozy, romantic dinner at home, wouldn't it be fun to snuggle yourself and your significant other up to a good steak, flavored with brandy and black peppercorns, and accompanied by a red onion and sour cream tart tatin? It feels like a special occasion meal, luxurious and special, but there's less effort and expense than you would imagine: you grill a steak, pop some puff pastry dough from the freezer section of the grocery store into the oven, and top with sweet red onions, caramelized to perfection and dabbed with sour cream. No heavy carbs to drag things down, just a satisfying and flavorful party indulgence. Don't forget to add a nice red wine to round out the meal – maybe a Yellowtail Cabernet Sauvignon, or, if you're splurging, a Jordan Cabernet Sauvignon.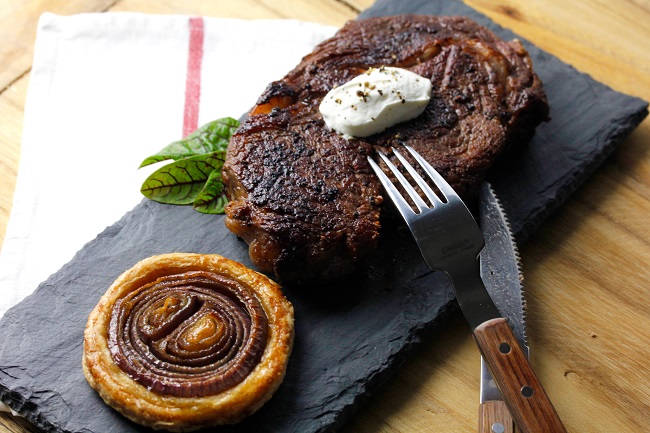 Ribeye Steak with Red Onion Tarts Tatin and Sour Cream
Adapted from the Sotheby's Café Cookbook
Serves: 2
Prep time: 40 minutes

Ingredients
2 ribeye steaks
1 teaspoon crushed black peppercorns
1 tablespoon of olive oil
1 Tablespoon butter
8 teaspoons brandy
salt to taste
For the tarts tatin:
Ingredients
2 Tablespoons butter
2 tablespoons sugar
2 large red onions, cut into 1/3 inch thick slices
2 pieces of puff pastry cut into 5-ich diameter rounds, available in the freezer case at most grocery stores
Sour cream for garnish
Directions
To make the Tarts Tatin:
Cut pastry dough into rounds and set aside.
Preheat oven to 350 degrees.
In a large frying pan, melt the butter over medium heat and add sugar.
Cook the onions until they are golden brown and soft – about five minutes.
Do not stir.
Carefully place the caramelized onions on top of the cut puff pastry and bake for thirty minutes.

To make the steak:
Press the peppercorns into both sides of both steaks and season with salt.
Heat olive oil in pan and brown steak on both sides.
Add butter to pan and cook until meat is done to your preference.
Remove steaks from pan, add brandy to the pan juices and cook for less than a minute to allow the alcohol to burn off.

Plate steaks, then place pastry rounds on plate and top with warmed caramelized onions.
Serve immediately.