It's Tex-Mex Thursday again, and I'm thrilled to pass along a recipe that puts a cheerful zing into what can be a traditional, but ordinary, Thanksgiving side dish. Matthew Wendel's sweet and spicy sweet potatoes elevate a Thanksgiving staple to new heights: he uses chipotle chiles tempered with the soothing richness of Greek yogurt. If Matthew's name is familiar to you, it's because he worked for President George W. Bush and Mrs. Bush at their ranch in Texas and at Camp David, serving up all-American favorites to foreign dignitaries and family and friends for many years.  Here's what he has to say:
From Matthew:
At the Bushes' Crawford, Texas, ranch, the holidays were always a special time, and Thanksgiving was extra special. In Central Texas, the weather in November was usually clear and cool. The house was filled with family, friends, and the smell of good food. One of the staples at the Bushes' Thanksgiving table were these mashed sweet potatoes. This dish is the perfect blend of sweet and spicy, with a hint of smokiness. It's simple to make and will taste like you spent hours in the kitchen – it will be a big hit at your Thanksgiving table.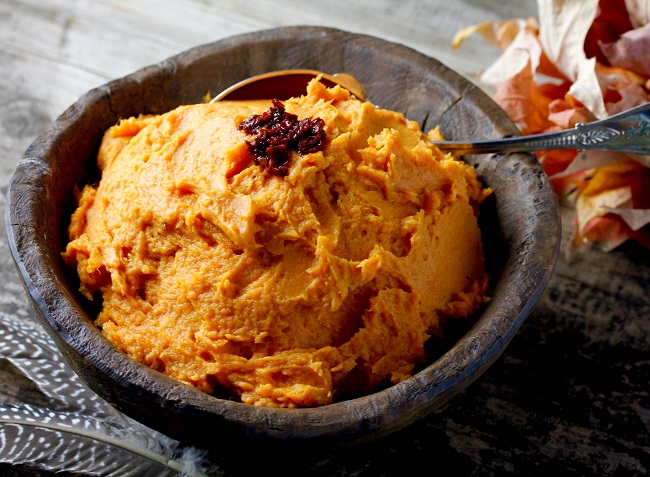 Mashed Sweet and Spicy Sweet Potatoes
Serves: 6-8 servings
Prep time: 45 minutes – 1 hour

Ingredients
4-5 pounds of sweet potatoes, washed well
1/3 cup maple syrup
¾ cup of full fat Greek yogurt
3-4 canned chipotle chiles, pureed
1 ½ teaspoons ground cinnamon
kosher salt to taste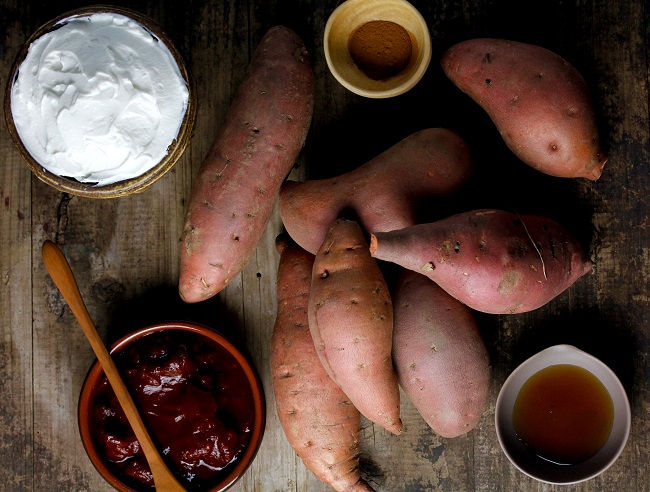 Directions
Preheat oven to 375 degrees.
Place potatoes on a large baking sheet and bake until soft, 35 to 45 minutes.
You can also bake them in the microwave if you're short on time.
Combine syrup, yogurt, chipotle puree, cinnamon and salt in a small bowl and whisk together until smooth.
When potatoes are done, cut in half lengthwise and scoop out the flesh into a large mixing bowl.
(You can include some of the shredded potato skins for a more rustic dish.)
Add the liquid mixture and mash together.
Put through a food mill for a finer texture.
Season to taste and serve immediately.