Rice bowl meals are satisfying and healthy – and a rice bowl today makes me feel as though I'm on the road to redeeming myself for the excesses of yesterday. These nutritious, hearty meals are everywhere now, and here's one you can make at home without a lot of special ingredients or effort.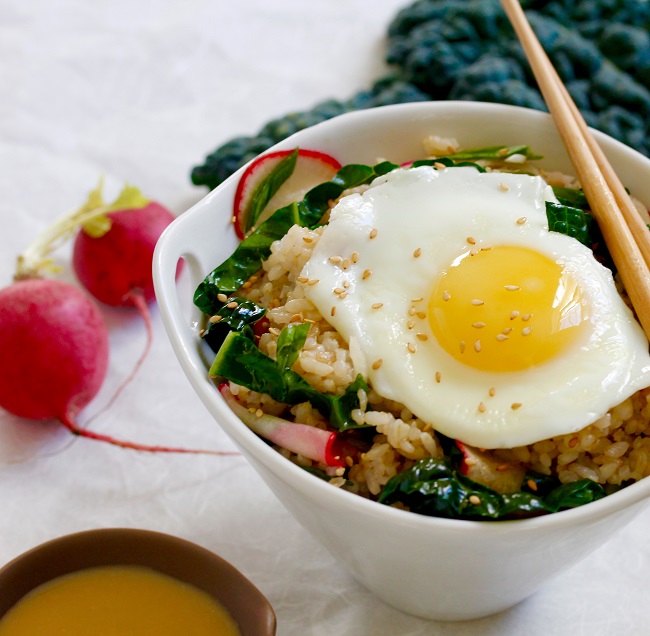 Serves: 4
Prep time: 25 minutes

Ingredients
Small bunch of kale, shredded
5 medium-sized red radishes, scrubbed and sliced
5 baby white radishes, scrubbed and sliced
6 green onions, sliced and divided in half
2 tablespoons red wine vinegar
1 tablespoon soy sauce
2 tablespoons canola oil
2 teaspoons brown sugar
4 cups brown rice, cooked
2 cloves of garlic, minced
half of the green onions
2 teaspoons soy sauce
1 tablespoon oil
4 fried eggs
2 tablespoons toasted sesame seeds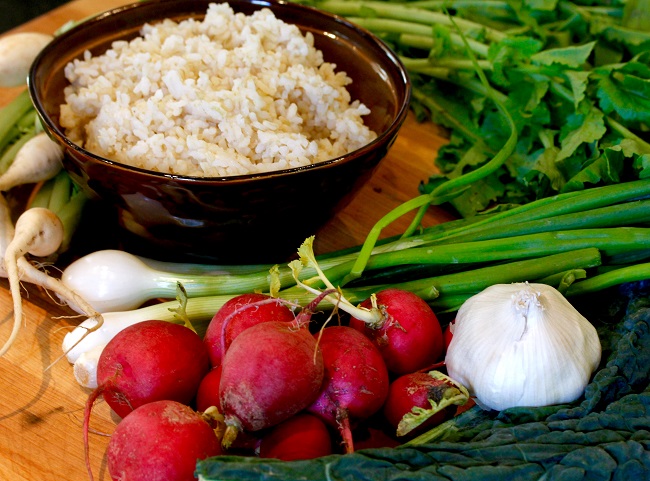 Directions
Combine kale, radishes and half of the green onions.
Mix together vinegar, soy sauce, oil and sugar and pour over slaw, and set aside.

Heat oil in a wok or frying pan.
Add garlic and other half of green onions and cook at medium heat for one minute.
Add cooked rice and saute several minutes until browned.
Season with soy sauce. Add slaw to wok and mix until vegetables are wilted – about 2 minutes.
Divide into four bowls and top with fried eggs and sesame seeds.
Serve immediately.