There are two recipes in this post because I just couldn't decide which one I liked better. The original plan was for a simple bourbon bundt cake, moist and redolent of alcohol, like a fruit cake without the sticky fruit and soft nuts. But then I found a recipe for a chocolate bourbon cake that I made for Thanksgiving and liked so much that I couldn't leave it out. (The photos are of the bourbon bundt cake; I forgot to take pictures of the chocolate bourbon cake – too many things on the stove that day!) Chocolate and bourbon compliment each other beautifully; neither flavor dominates, they just enhance each other in a way you're going to love. Both cakes benefit from several generous bastings of bourbon after baking; it keeps the cake moist and rich, so that a simple dusting of confectioners' sugar will finish it off nicely.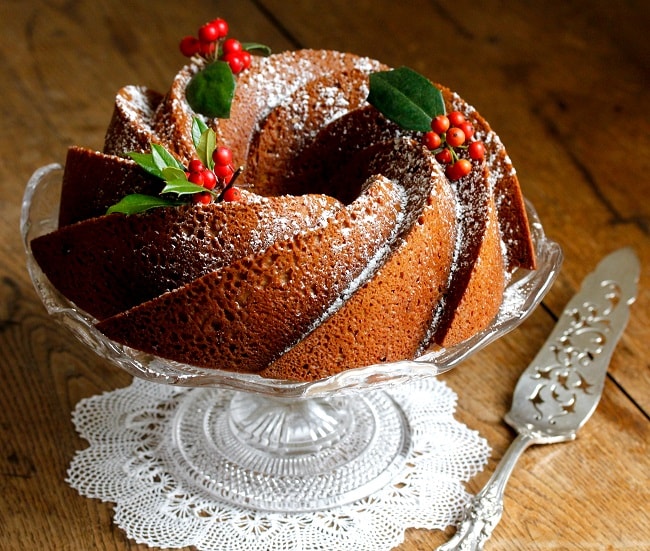 PS – This recipe is dedicated to my friend, Lisa Barry, who knows a thing or two about good bourbon.  Merry Christmas, Lisa!
Bourbon Bundt Cake
Prep time: 55 minutes
Serves: 6-8

Ingredients
1 1/2 cups flour
8 ounces light brown sugar
¾ cup butter
3 eggs
3 ounces evaporated milk
¼ cup bourbon plus ¼ cup for basting cake after baking
½ teaspoon baking powder
¼ teaspoon salt
1 tablespoon vanilla
Confectioner's sugar for garnish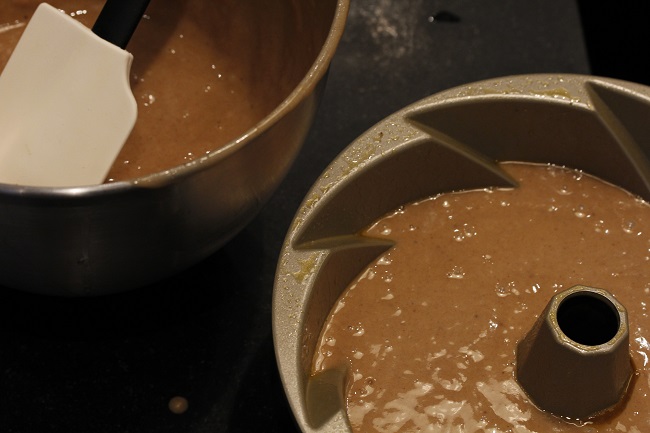 Directions
Preheat oven to 325 degrees. Beat butter with a mixer until creamy.
Add brown sugar, then eggs, one at a time.
Mix flour, baking powder and salt in another bowl.
Mix evaporated milk and bourbon, and add to the butter mixture.
Add flour mixture and vanilla until blended.
Pour into greased pan and bake for 45 minutes.
Cool and remove from pan.
Use a pastry brush to baste remaining bourbon on to the top and sides of the cake; repeat until bourbon is fully absorbed.

When cool, sprinkle with confectioner's sugar and serve.
Chocolate Bourbon Cake
Adapted from the New York Times
Prep time: 1 ½ hours
Serves: 8-10

Ingredients
12 tablespoons unsalted butter, cut into 1-inch pieces
¾ cup plus two tablespoons unsweetened cocoa powder
½ cup bourbon plus ¼ cup for brushing on cake after baking
1 cup light brown sugar
1 cup sugar
2 cups flour
1 ½ teaspoons baking soda
¾ teaspoon salt
3 eggs
2 teaspoons vanilla
1 cup mini semi-sweet chocolate chips
Confectioners' sugar for garnish
Directions
Preheat oven to 325 degrees. Butter a springform pan and dust with 2 tablespoons cocoa powder.
In a medium saucepan, heat butter, bourbon, cocoa powder and whisk over low heat until butter is melted. Add sugars and whisk until all sugar is dissolved. Set aside and allow to cool.
Combine flour, baking soda, and salt.
Whisk eggs and vanilla together and add egg mixture into chocolate mixture.
Add dry ingredients and combine, then fold in chocolate chips.
Pour batter into pan and bake for one hour.
Cool on a wire rack, and remove sides of springform pan.
Use a pastry brush to brush remaining bourbon across top and sides of cake; allow to dry and brush again until bourbon is completely absorbed.
Dust with confectioner's sugar before serving.