One of my husband's cousins who lived in South Carolina had a sign in her kitchen that said, "Shalom, Y'all," which I always thought was a charming way to express both her faith and her geography. It's the Hanukah season, and these three simple recipes combine both Jewish and southern traditions: rosemary roasted chicken, rustic cinnamon applesauce (my husband's favorite condiment on a latke), and oven-roasted potato latkes baked in a cast iron cornbread skillet. It's the kind of meal you hardly need to think about because it's so easy, but the rosemary, apples, and tender chicken go together so well that you can practically pile them on top of each other and enjoy all the flavors at once!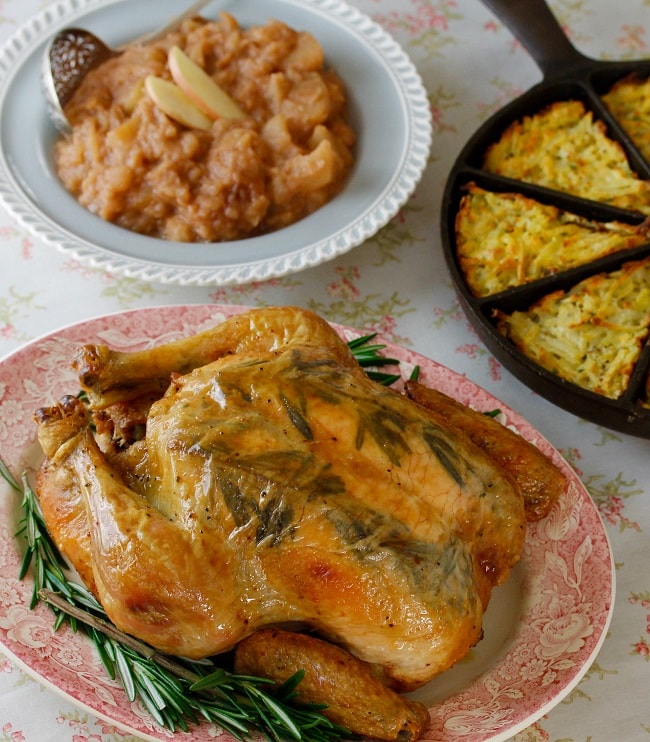 We celebrated both Christmas and Hanukah when our daughters were growing up, and found that observing both holidays doubled the excitement, the gratitude, and the joy of the season. As the Adam Sandler song goes, "Have a happy, happy, happy, happy Hanukah."
Rosemary Chicken
Serves: 4
Prep time: 1 ½ hours

Ingredients
1 large roasting chicken
1 lemon, cut in half
4 large sprigs of rosemary, with additional set aside for garnish
1 bulb of garlic, peeled and cut in half
salt and pepper to taste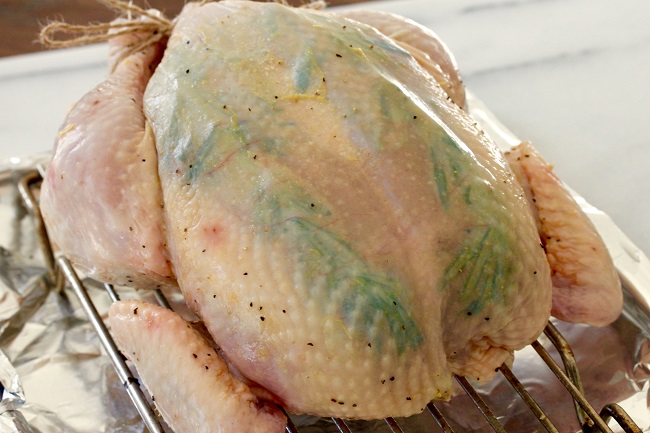 Directions
Wash chicken and pat dry.
Fill inner cavity with lemon and garlic cloves.
Gently separate skin from chicken breasts and slide two rosemary twigs on to each breast, under the skin.
Replace skin and salt and pepper well.
Roast in a 400-degree oven for 30 minutes, then reduce heat to 375 degrees and roast for an hour.
Baste with the juices from the chicken every twenty minutes, to make the skin crisp and brown.
Allow chicken to rest for fifteen minutes before garnishing with additional rosemary, and serve.
Rustic Cinnamon Applesauce
Serves: 4
Prep time: 15 minutes plus 1 and ½ hours to simmer on the stove

Ingredients
6 large apples of any kind, peeled and diced
2 tablespoons butter
1 ½ teaspoons cinnamon
1 tablespoon sugar or 2 individual-sized packets of Truvia
Directions
Melt the butter in a saucepan at medium heat, adding apples, cinnamon and sugar and allowing them to caramelize.
Lower the heat to simmer and allow apples to cook down for at least an hour, stirring occasionally as they soften.
There will be lumps in the applesauce, which is part of its charm. Serve.
Skillet Latkes
Serves: 3-4
Prep time: 45 minutes

Ingredients
2 large potatoes, peeled, grated and well-drained so they are completely dry
1 tablespoon chives
1 tablespoon flour
2 egg yolks, well beaten
¼ teaspoon pepper
1 ½ teaspoons salt (kosher is best)
cooking spray for the skillet
Sour cream or applesauce for garnish
Directions
Place cast iron skillet into the oven and preheat skillet at 450 degrees.
In a mixing bowl, combine shredded potatoes, chives, flour, eggs, salt and pepper.
Mix together well; the mixture will be wet so the latkes are not weighed down with flour.
Carefully remove hot skillet from oven and spray well with cooking oil, pressing and flattening the potatoes firmly into the skillet.
Try not to burn yourself on the skillet, but putting the potatoes into an already-hot skillet causes them to brown evenly underneath.
Bake in a preheated 375 degree oven for 25 minutes, then raise the temperature to 425 degrees and bake for about ten minutes or until potatoes are brown.
Remove from oven and allow to sit for a few minutes before using a spatula to remove latke wedges.
Serve with sour cream or applesauce.