Louisa Adams was the sixth first lady of the United States, the daughter-in-law of John and Abigail Adams, and the wife of John Quincy Adams. She was one of the most experienced and formidable hostesses the White House has ever seen, living in Prussia, St. Petersburg, and London while her husband was in diplomatic service, and then entertaining frequently when her husband became Secretary of State and later President. When I found her four-ingredient recipe for clam chowder, I was intrigued. Could it still be done as it had been in colonial times – just clams, butter, flour and milk? Yes and no. I added celery, garlic, and potatoes, to enhance both the flavor and the heft of this hearty, classic, American soup, but it's still a very simple recipe.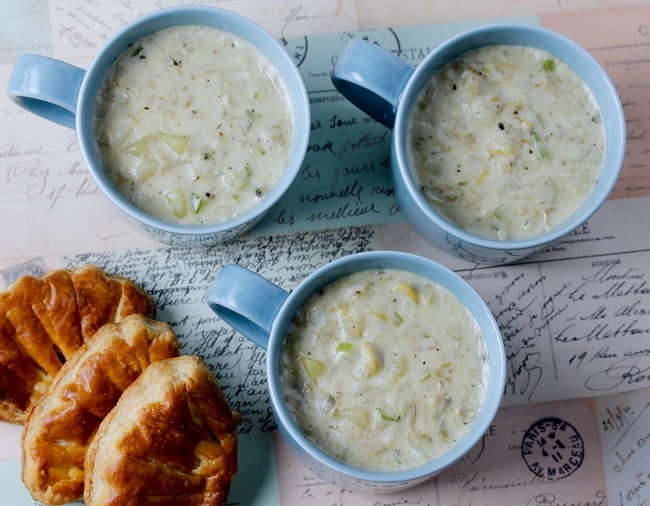 New Englanders are religious about their clam chowder; there's nothing like a steaming mug of 'chowdah' on a bone-chilling day to make the world seem bright and warm. I made this recipe with fresh clams first, then tried it with canned clams, and found that there wasn't a big difference in flavor – and the canned clams are a time saver. I also made little puff pastry tops for the chowder from premade phyllo dough. Placing one on top of a mug or bowl just before serving makes them look like clam potpies, and then you've got a respectable entrée, not just a cup of soup.
Clam Chowder
Serves: 4
Prep time: 45 minutes

Ingredients
2 ten-ounce cans of minced clams, drained, with juice reserved
2 cups of clam juice, reserved from canned clams
1 cup white onions, finely chopped
4 cups potatoes, peeled and diced
1 cup celery, minced
2 cloves garlic, minced
1 tablespoon butter for cooking the onions and celery, plus ½ cup of butter for the pot
2 cups cream
2 cups half and half (you can use whole milk but soup will be thinner)
1 teaspoon sugar
½ cup flour
½ teaspoon pepper
½ teaspoon salt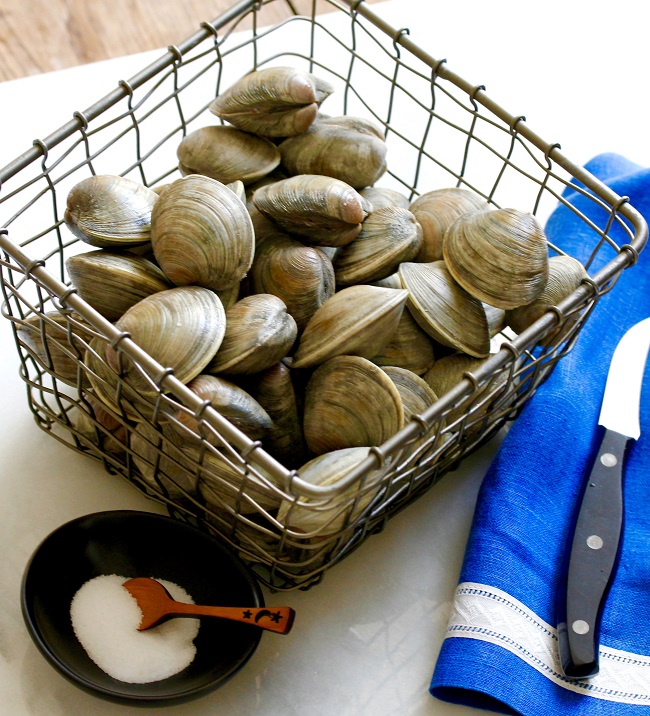 Directions
Saute the onions and celery in a tablespoon of butter at medium low heat until they are soft.
Add garlic to mixture and allow it to cook a few minutes until soft, before adding potatoes and clam juice.
Cook on medium heat for about 12 minutes until potatoes are done.

In a separate soup pot, melt butter at medium heat and stir in flour to make a roux.
Add cream and half and half, and bring to a boil.
Keep stirring so milk doesn't scorch. Add clam mixture, clams, sugar, salt, and pepper.
Stir ingredients together and serve.

To make the phyllo dough tops:
Ingredients
1 package premade phyllo dough
1 egg, beaten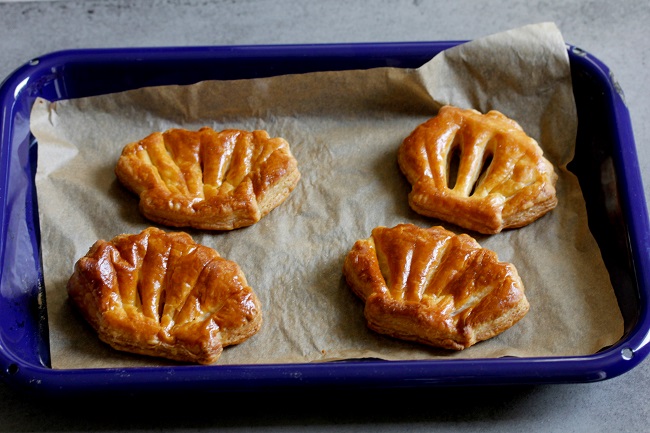 Directions
Using a cookie cutter, cut phyllo dough into rounds to fit the tops of your mug or bowl.
Brush dough with beaten egg and bake in a 400 degree oven for 12-15 minutes.
When rounds are golden, remove from oven and allow to cool and harden.
Serve with soup.