One of the original desserts of early American cooking was hasty pudding, or, as it was sometimes known, Indian pudding. (You may remember that hasty pudding is mentioned in the lyrics of the Revolutionary War song, "Yankee Doodle.") Made with cornmeal, eggs, milk, and whatever spices a cook had on hand, it was sweetened with molasses or maple syrup. Later versions added ice cream, or candied fruit. This is my updated take on hasty pudding, based on recipes found in the old White House Cookbook, and Teddy Roosevelt's favorite version from a later First Ladies cookbook. This dish has an authentic connection to the past, but is updated to appeal to modern tastes, with thin, caramelized slices of acorn squash added for color and crunch, and a dab of crème fraiche to finish it off.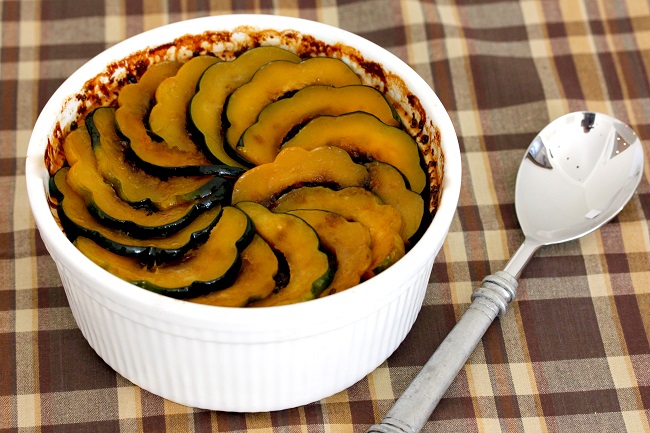 Hasty pudding is satisfying and warm –  like a good friendship.  It tastes and smells like something we can be grateful for.
Serves: 8
Prep time: 20 minutes to prepare, 2 hours to bake

Ingredients
½ cup cornmeal
3 cups whole milk
½ cup molasses
½ cup brown sugar
1 cup heavy cream
1 teaspoon salt
1 tablespoon plus one teaspoon of freshly ground ginger
¼ teaspoon cloves
¼ teaspoon nutmeg
2 teaspoons cinnamon
4 eggs
4 tablespoons of butter, cut into pieces
For the acorn squash:

Ingredients
½ acorn squash, washed and unpeeled, cut into thin slices
2 tablespoons brown sugar
2 tablespoons butter
Directions
Preheat oven to 300 degrees.
Grease a soufflé or baking dish with butter.
In a large saucepan, scald the milk at medium to low heat.
While milk is heating, mix together in a mixing bowl: cream, cornmeal, salt, molasses, brown sugar, ginger, cinnamon, nutmeg and cloves.
Add this mixture to the milk, and cook at medium heat, stirring continuously.
After about five minutes, mixture should be the consistency of syrup.
Remove from heat.
In a separate bowl, beat eggs with a whisk and keep whisking as you slowly pour the cornmeal mixture into the eggs.
Don't pour the mixture in too fast or it will curdle the eggs. Add butter, one piece at a time.
Pour pudding into the baking dish and bake for two hours or until a cake tester inserted in middle of cake comes out clean.
It will not be as firm as a cake, but more like a pudding.
Remove from oven; while cake is cooling, halve the acorn squash and slice into thin slices.
Heat butter and brown sugar in large frying pan and working in batches, cook the squash until it is soft and caramelized.

Place squash on top of Indian pudding and garnish with crème fraiche.
Serve pudding hot.