My husband's been home with the flu, and I wanted to cook something comforting for him, so I made his favorite tuna casserole. When he was a little boy his mother made tuna casserole in a yellow cast iron pan, a mix of tuna, Campbell's cream of mushroom soup, and a sprinkle of crushed canned onion rings on top. (She wasn't much of a cook, but he retains fond memories of her tuna casserole.)
This casserole is made with fresh ingredients (I've tried it using fresh tuna as well, but it really doesn't make a difference in the taste), and there's no soup component, but I love it because it's fast and easy, freezes like a dream, and makes the best leftovers. It's the perfect dish for a winter weekend when you're feeling lazy and can make a couple of meals out of it. Add a green salad and you've got the makings of a satisfyingly classic comfort food meal.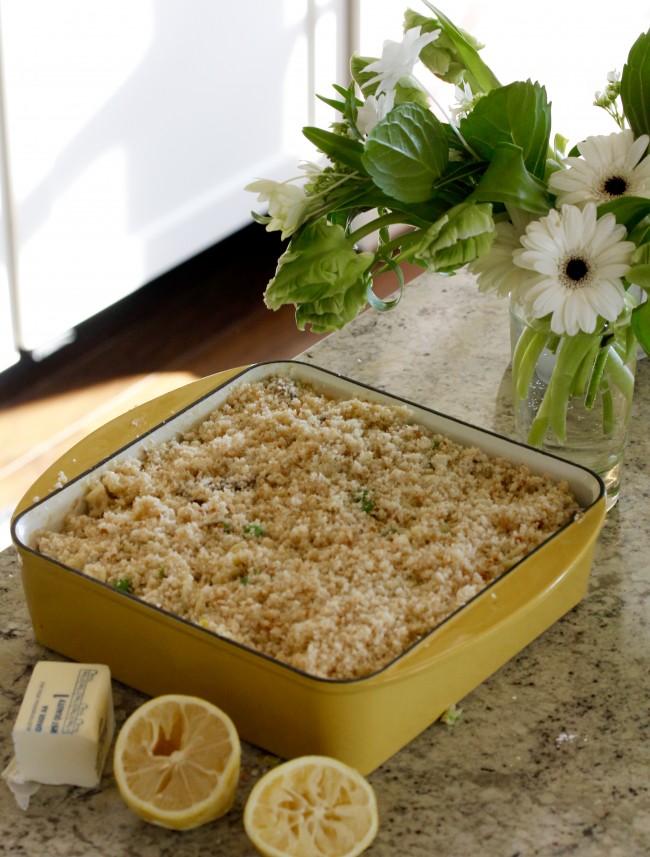 Tuna Casserole
Ingredients
1 pound fusilli pasta
4 tablespoons butter
1 onion, finely chopped
1 leek (white part only) washed and thinly sliced
½ cup celery, finely chopped
1 cup frozen peas
1 cup button mushrooms, sliced
3 six-ounce cans of tuna in oil, drained
For the roux: 
Ingredients
4 tablespoons butter
2 tablespoons flour
1 ½ teaspoons salt
¼ teaspoon white pepper
2 cups whole milk
For the topping: 
Ingredients
3 slices of white bread, processed to crumbs in food processor
pinch of salt
1 tablespoon melted butter
Directions
Bring a large pot of lightly salted water to a boil. Cook pasta until al dente – about 8-10 minutes. Drain and set aside.Preheat oven to 400 degrees.
Using same pot in which you cooked the pasta, heat the butter until it shimmers. Add onions and leeks and stir until soft. Add celery, mushrooms and peas and cook one minute. Add tuna. Turn heat off and set aside.
To make the roux:
In a saute pan heat butter until melted. Add flour and stir vigorously. When mixture thins and starts to bubble, add milk slowly while whisking. Lower the heat and continue whisking until mixture is smooth and thick. Add salt and pepper to taste.
Combine pasta, roux and vegetable mixture. Place in a 12 x 9 casserole dish and top with bread crumbs. Bake in preheated oven for 15-20 minutes or until top is golden brown.