When melon is no longer in season, and pears have yet to reach their prime – cue the dates! A staple on an autumn cheese plate whose nutty flavor and sweetness cut the saltiness of the prosciutto, this quick salad is substantial and satisfying. Add fresh spinach, a smattering of pecorino, walnuts for a little crunch, and you've got a hearty starter salad or an easy-to-assemble dinner. Who doesn't love a little prosciutto?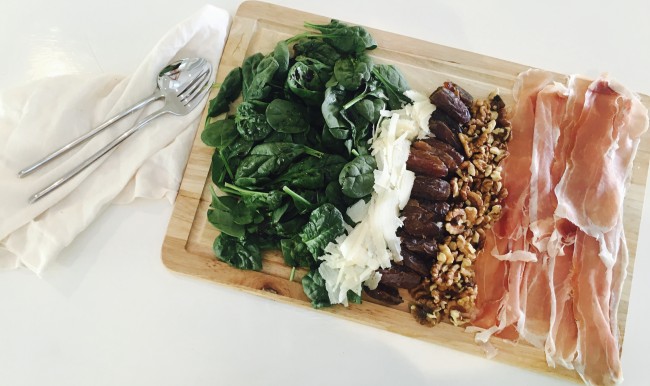 Serves: 4 as appetizer, 2 as entrée
Prep time: 15 minutes

Ingredients
½ pound of prosciutto, thinly sliced
15 dates, pitted and sliced
3 cups fresh spinach, washed and thoroughly dried
½ cup walnuts, halved
¼ cup pecorino, shaved
1 ½ tablespoons balsamic vinegar
Directions
Toss mixed greens with 1 tablespoon balsamic vinegar. Arrange pecorino, dates, walnuts, and prosciutto in neat lines after greens (for a composed salad), or mix ingredients together and toss.